This week I have a guest blogger - thank you
Webzone One
A few days ago my friend's daughter had her
5th birthday
. I really adore her (her mother is my
best friend
!) and I wanted to give her something special for her birthday. Something she didn't already have and she could grow up with. I must admit, to figure out what it could be was not a very easy task! I thought about my childhood, about the things I had and liked the most. I remembered my paper dolls, my Barbies... but thought that my friend's daughter already had all that and more.
Luckily after some more pondering I ended up with an idea that I was very happy with: a
jewellery box
with music and a dancing ballerina! When I was a child I had a pink
jewellery box
like that, for me it was something very magical, like something for a Disney Princess. I had all my treasures in it and every time I opened the box and heard that music I was enchanted... I asked my friend to be sure that her daughter didn't already have one and luckily she didn't. I then noticed another problem – it's not exactly easy to find one, especially not one that a young girl would have fancied!
For one entire morning I ran around the high-street shops, but found nothing as nice as I had imagined. In the same evening I made a shopping tour of the net and fortunately had better luck, from a site called
ShopAlike
. I found a box that was exactly how I had imagined!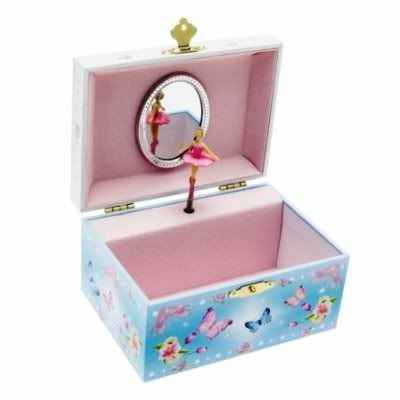 When I received the box, I prepared a beautiful packet with silk laces and card with golden words and headed to the party. The best thing is the success my idea received. The little birthday girl just fell in love with the box and immediately went to take her tiny bracelets and everything she had to put them in the box. Her mother told me that she wants to open the box every day, see the ballerina dancing and listen to that music... I tried to look for my old
jewellery box
, but I must have hidden it so well that I didn't manage to find it (that or it got thrown out!).
My present
jewellery box
is much bigger, but is still as precious to me as my little pink box from my childhood. Often when I'm thinking what to wear I might start of with some jewel and on that basis choose the clothes. Even though for many it works the other way around I guess, for me jewellery is something special, each peace contains a memory, an atmosphere, a unique moment in time. Each piece is special and deserves a special place to be stored, like that little box with the twinkly music and the dancing ballerina...